I'm ready and the house "proper" is clean. (The house basement/storage is not...but, oh well...)The decorating is done and it was hard work, where I had intended for it to go in stages and be easier. I didn't keep up like I wanted to this season. But I am done earlier than most years, the gifts are all bought except little stocking stuffers and silly things. I even found a great gift for dh that he actually wants. The newsletter is printed and more cards are being sealed up every day - should all be out by the end of this coming week. I got my Advent log set up on time
and have been lighting it already, doing an Advent devotion each day - just for me. The stereo that looks like a black and red transformer toy, is set up in a great spot that I had never considered til now. So now I can actually reach it to program the cd's and the aggressive looks are hidden by wicker and fake ivy. LOL!



The house is filled with warmth, light, color and peace. I used a lot more real greenery this year and got rid of some of the artificial stuff.
I took pictures tonight but the camara apparently has cataracts and I will have to try in daylight.
But a couple turned out, and here's the funny one! I lit the huge White Pine outside dd's room but didn't do a very good job. It was sparse and the lights drooped so bad I had decided to take them down. But dh saw them lit tonight and wondered how I managed to get them to droop and sag in the shape of a reindeer! LOL!
A couple more pics turned out as well.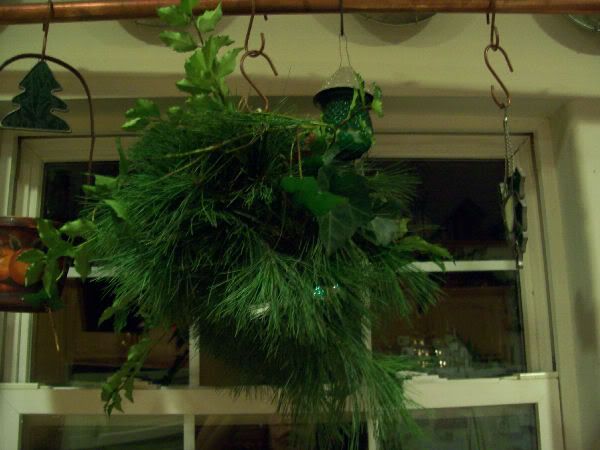 A kissing ball. Do I really think I'll get kissed while working at the sink? Nope. But it was fun to make and it sure is cool looking!
The view in front of my computer.




Diningroom windows.